Maral and Izubr Stag Hunting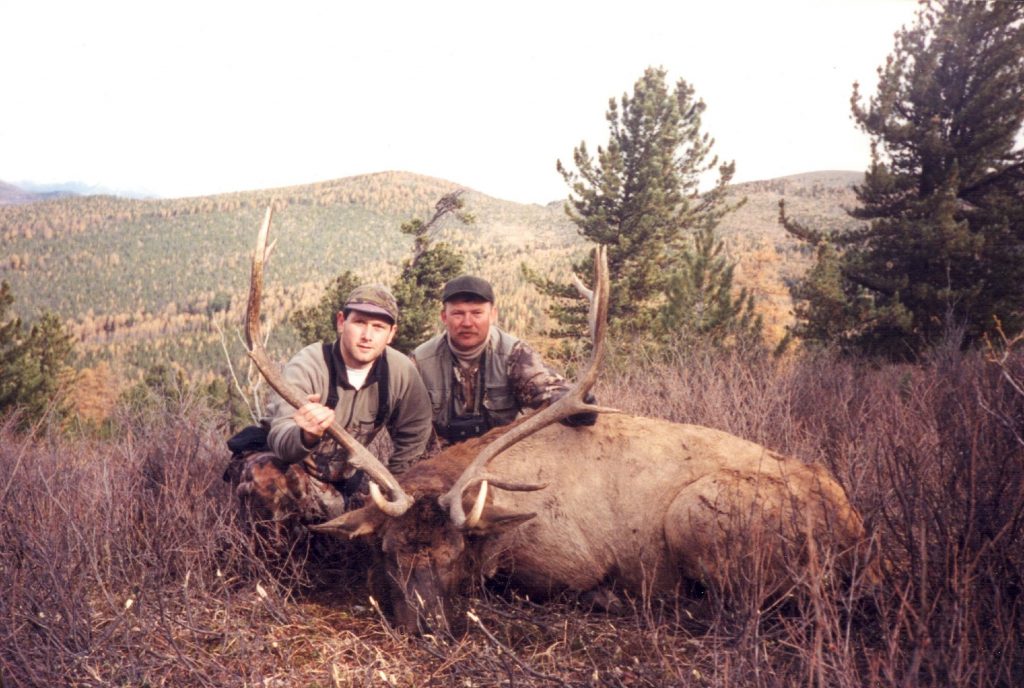 Location: Ust'-Koksa, Altai, Russia
Season dates: October 15-Deember 31
Hunting method: stalking
Accommodations: rustic hunting cabins
Price: $8100 group of 2 or 3; $9100 solo
Additional day of hunting: $400
Additional trophies: brown bear $4000, ibex $3000, musk deer $1500
Reception and assistance in St. Petersburg airport;
Accommodation in the hunting area;
Meals and soft drinks during the hunt;
Roundtrip ground transportation airport-hunting area and transportation during the hunt;
Services of 1 guide per hunter;
Services of 1 interpreter in a camp;
Field trophy preparation;
Gun permit;
Invitation letter and voucher;
Hunting license;
Trophy export permit;
1 bull.
Not included in the price:
International airfare,
Domestic airfare (approximately $450);
Insurance of any kind;
Preserving, shipping or transporting of trophies from Russia;
Cost of sightseeing tours;
Ground transportation unrelated to hunting;
Gratuities.
Day 1: arrival to Moscow.
Day 2: overnight flight to Gorno-Altaysk, 400 mile (600 km), 4×4 ride to the village of Ust'-Koksa, overnight in Ust-Koksa
Day 3: two hour ATV ride to the hunting camp, sighting weapons, getting used to the horses
Day 4-10: 7 days of hunting
Day 11: return to Gorno-Altaysk, overnight in Gorno-Altaysk
Day 12: flight to Moscow
This will primarily be a horseback hunt. In December, when snow cover gets deep, hunters may have
to use skis. Maral and ibex hunts can be combined between October 15 and November 30. Bear, wolf and musk
deer can often be taken as trophies of opportunity. Shooting distance is typically 300-400 yards.
Sergei Shushunov and Russian Hunting LLC organize hunting expedition for maral and izubr stags – two subspecies of asian vapiti in Russia and Kazakhstan. The Asian Wapiti habitat is spread through 7 time zones along the Southern borders of Russia, parts of China, Mongolia and Central Asia.
Izubr (Izyubr), also called Manchurian wapiti is a subspecies of Asian wapiti found in the territories between lake Baikal and the Pacific Ocean. Izubr is smaller than other subspecies and has weaker, more narrow antlers. Izubr stag winter coat is dark grayish-brown, contrasting with a very large red rump patch, which is divided by a narrow dark stripe. It has a longer and narrower muzzle than other Asian or American wapitis. Hunting is offered in Irkutsk, Khabarovsk and Primorsky Krai regions of Russia, mostly in September, during the rutting season and can be combined with wild boar, musk deer, sika deer, brown bear and Asiatic black bear hunts.
Maral, found West of lake Baikal, is represented by to subspecies: Tyan Shan Maral and Altai maral and look similar to North American wapiti, or elk. Maral stag is a magnificent animal with massive antlers frequently larger than elk.
Tyan Shan maral color is dark brownish-gray, with the head, neck, under- parts and legs dark brown with a tinge of red. There is a wide, light-colored ring around the eyes and a narrow white border on the upper lip around the nose. The rump patch is very large and bright reddish-cream in color with a dark brown border, and is divided by a blackish-brown stripe that does not reach the root of the tail. Tyan Shan maral is hunted only in Kazakhstan.
Altai maral is slightly smaller and paler in color than Tian Shan maral, with some minor skull differences. Their winter coat is a light grayish-brown or yellowish-brown, the head, neck, belly and legs a dark brown.
Altai maral stag can be hunted in Russia and Kazakhstan with the best trophies are found in Kazakhstan.
Hunting for maral stag is organized in Tuva, Krasnoyarsk and Altai regions of Russia and Kazakhstan, starting during the rutting season in September. Later in the season maral is hunted by stalking or with dogs. Horses are frequently used during the hunt. Maral hunts, depending on the area and season, can be combined with Siberian Ibex, Siberian roe deer, musk deer, wild boar and bear hunts.
TO GET INFORMATION ABOUT OUR MARAL OR IZUBR HUNTING TRIPSCall Sergei at 1-847-962-1858 or e-mail sergei@russianhunting.com.Next expeditions are scheduled for September-October-November